Earnest money check, down payment and closing costs: When are they due?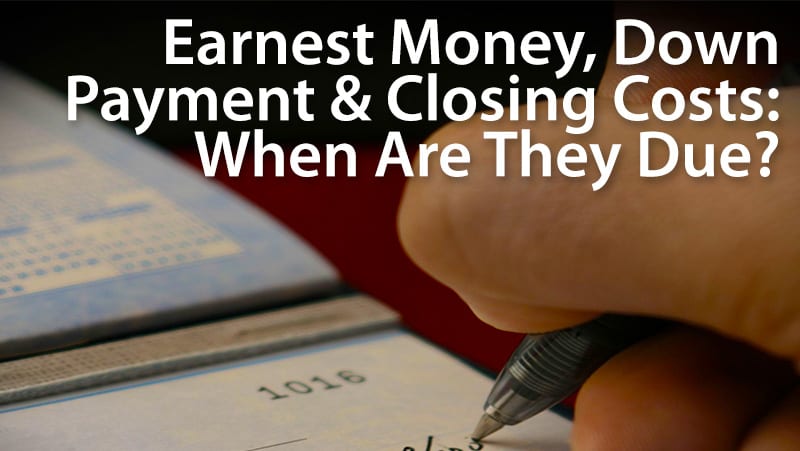 Buying a house: 3 steps, 3 payments
Buying a home usually occurs in stages:
You provide an earnest money check to open escrow (often, when you make an offer on the home)
The lender will verify that your down payment comes from an acceptable source
You'll bring your down payment and closing costs (less earnest money already paid) to your closing
In some cases, your mortgage requires no down payment, and/or the seller may pay your closing costs. But you normally pay for these things when you buy a home.
Click to see your low-downpayment loan eligibility (May 21st, 2018)
Three things you'll need to pay before moving in
Homebuyers commonly finance a home purchase by taking out a mortgage loan. But some parts of the transaction that the loan may not cover need to be paid up front. These include earnest money, the down payment, and closing costs. Which begs the question: When are earnest money, down payments and closing costs due?
It's important to understand the differences between these items. It's also crucial to know the deadlines for each. Knowing what to expect can help you better prepare. You may have to adjust your buying timetable to have enough money saved.
Talk to your real estate agent and learn about these matters. Ask questions about anything you don't understand. And aim to be a well-educated consumer.
What is earnest money, and when is it due?
Bruce Ailion, real estate attorney and Realtor with RE/MAX Town and Country in Atlanta, says the earnest money serves as a good faith deposit to the seller.
"It's a sign that you will honor the real estate purchase contract. It may also serve as liquidated damages that the seller keeps if you breach the contract," he says.
Ailion says the earnest money is due when the contract is accepted or shortly after. "It's usually paid to an impartial third party, like a title company," he says. These funds are often held in an escrow account until closing.
How much earnest money do you need?
The term "liquidated damages" means that the seller gets to keep the earnest money if you don't follow through. It cancels the agreement and limits the amount the seller can get from you for bailing out. For this reason, higher earnest money deposits are safer for sellers, while lower deposits are less risky for buyers.
"Local customs influence what's considered a reasonable earnest money amount," says Ailon. "It can be as low as $500 to $2,000, or between 1 to 5 percent of the purchase. Or it can be as high as 10 percent."
Many experts recommend that buyers attach an earnest money check to the offer.  It shows that you are serious and have the ability to close the deal. If you have the money and are really serious, you can just put up your entire down payment right there.
If the seller accepts your offer, this money will go toward your down payment and closing costs. Note that earnest money can be either refundable (this is almost always the case) or non-refundable (what you might have to do to compete with cash buyers in very hot markets).
Refundable earnest money must be returned to you if you can't complete the purchase for specific reasons spelled out in your contract. For instance, if the property fails an inspection or your financing falls through, or the appraised value is less than the purchase price. But you'll lose it if you simply change your mind about buying.
Non-refundable earnest money is just that — non-refundable for any reason if you can't or don't close.
What is a down payment, and when is it due?
Claudienne Hibbert, president of the National Association of Real Estate Brokers South Florida Board, says a down payment is different.
It's "the amount of the purchase price a buyer pays that's not financed in a mortgage loan."
Together with the home loan, the down payment equals the total sales price for the home being purchased. If your home's sales price is $250,000, and you'll borrow $237,500, your required down payment is $12,500 (5 percent).
Ailion notes that your lender will specify a minimum down payment amount due. He says this can be as low as:
Zero down for a Veterans Administration (VA) loan or the United States Department of Agriculture (USDA) loan
3.5  to 10 percent down for an FHA loan (depending on your FICO score)
3 to 20 percent down for a conforming (Fannie Mae and Freddie Mac) loan
"The down payment is typically paid at closing," says Ailion. "The settlement agent or closing attorney will combine these funds with lender funds to pay the seller the purchase price."
What are closing costs and when are these due?
Closing costs are expenses related to making a loan and closing the purchase, Ailion says.
"They include attorney fees, title fees, survey fees, transfer fees and transfer taxes. They also include loan origination fees, appraisal fees, document preparation fees, and title insurance," he says.
Closing costs can range between 2 and 5 percent of the purchase price. "A buyer can negotiate the seller to pay some or all of these costs," adds Ailion.
Closing costs are due at closing. On this prearranged date, money and the title are exchanged. You'll also sign all the necessary documents and be responsible for the mortgage loan.
Stay on top of these fees and deadlines
It's wise to keep track of what's due and when. And plan out a timeline for saving enough funds for each of these items.
Tracking your purchase timeline and firming up deadlines with your agent can also prevent disaster.
"I recently heard of a buyer who lost $10,000 in earnest money. This was because he didn't comply with one of the contract's provisions," Ailion says.
Also, to ensure better savings habits, create a budget.
"Write down your budget goals on paper. And create an income and expense tracker in a computer document or spreadsheet," suggests Hibbert. "This helps to record and see money that's coming in and going out."
By better understanding your finances, "you can begin to cut unnecessary things from your budget," she adds.
Show Me Today's Rates (May 21st, 2018)
The information contained on The Mortgage Reports website is for informational purposes only and is not an advertisement for products offered by Full Beaker. The views and opinions expressed herein are those of the author and do not reflect the policy or position of Full Beaker, its officers, parent, or affiliates.
Earnest money check, down payment and closing costs: When are they due?